Brian Graydon | Jan 06 | 2 min read
Purchasing Your First Laser Resistor Trimming System
Acquiring capital equipment for your company can be a major financial decision which may be daunting at first sight. As resistor trimming volume and complexity grows while component dimensions shrink, many companies are beginning the process of purchasing modern laser resistor trimming systems to meet these needs.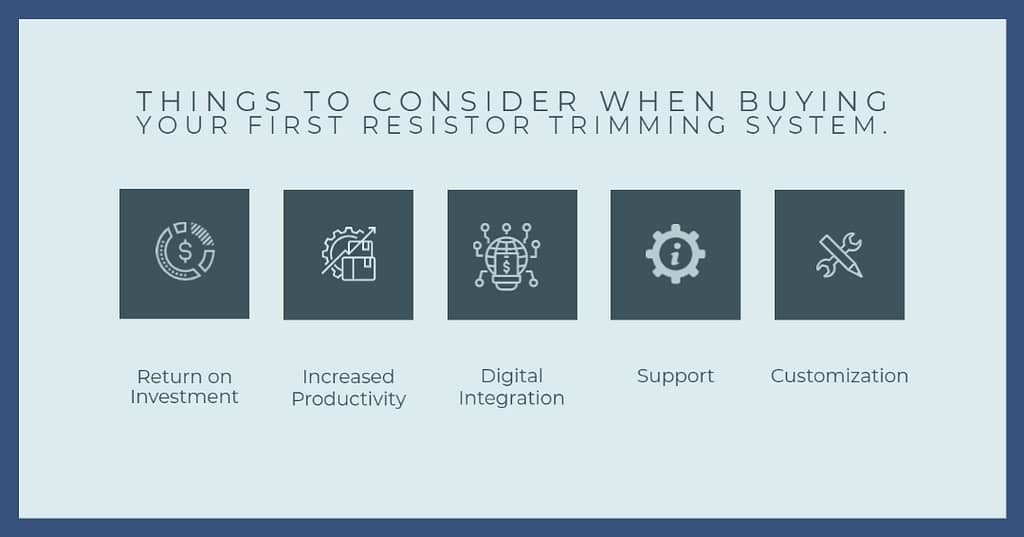 Here are five of the common factors that are involved in the decision-making process:
Return on Investment
Modern laser resistor trimming systems provide clear benefits to a company's bottom line. The increase in speed and available automation saves on both labor costs as well as operating costs . Systems are designed to operate autonomously, shorten job creation and product process times as well as provide consistent product quality. All of this results in increased profit as well as increased customer satisfaction.
Increased Productivity
Modern laser resistor trimming systems have been designed from the ground up to take advantage of the latest software and hardware advances. Windows 10 operating systems and advanced fiber lasers combined with the latest customization features allow RapiTrim resistor trimmers to dramatically improve throughput.
RapiTrim systems are designed to meet today's applications as well as future specifications with the anticipated continuous reduction in component size and increased resistor density.
Digital Integration
As more and more manufacturers move towards the Industrial Internet of Things (IIoT) and Industry 4.0 standards, production systems will be required to communicate with a variety of control and storage systems. The creation of feedback processes will allow real-time process control. ProSys resistor trimming software has been developed with this in mind. Systems are fully capable of transferring data and receiving instructions in return and have a variety of custom options such as process sequence customization using sub-tasks tailored to each specific application.
Support
The support and service group of PPI Systems consists of individuals with varied backgrounds and areas of expertise allowing a multi-faceted team approach to problem solving. Application support, technical support, training, and spare parts are a small part of what is offered. Using an advanced CRM combined with a team approach towards any application need allows PPI to assist you through product development, design, deployment and post-installation support.
Customization
As trimming complexity increases, demand for customization has become more common. With probing options, external instrument support, loaders and fixturing being critical to the successful design of a system, RapiTrim resistor trimming systems have been designed from the ground up to offer a wide range of customization features.
PPI Systems has created design processes after years of working with manufacturers' engineering teams to ensure new systems are  created in a fast and efficient way. From the initial discussions, through sample processing, design reviews, customization features and finally system production, PPI works hand-in-hand with clients to produce a unique resistor trimming solution that meets their requirements.
For a review of your application please feel free to contact PPI Systems:  info@ppisystems.com