Next Generation Probe Card Based Resistor Trimming Systems
RapiTrimTM | Laser Resistor Trimming Systems
PPI Systems Inc.
August 2023
Over forty years ago electronics manufacturers developed the process of using a laser to adjust operating parameters of an electronic component or circuit by reducing the amount of resistor material. Early designs used probe cards for their testing method as they were an excellent solution to high volume production applications. Many of these systems have undergone minimal development since their original design, relying on older hardware and software not designed for today's trimming needs.
Over time semiconductors, chip resistors and thick and thin-film circuits have shrunk in size, while increasing in density and complexity, resulting in more advanced laser system specifications than were needed or available in the past. Older systems have difficulty maintaining the speed, accuracy and quality needed to meet production requirements and often cannot provide the flexibility that modern resistor trimming systems offer.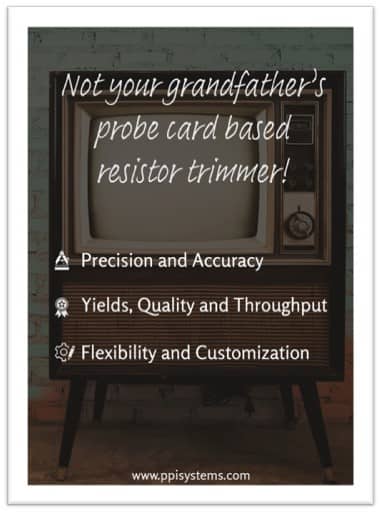 RapiTrim resistor trimming systems offer the next generation of probe card-based trimmers, incorporating advances in hardware and software made over the last 30 years, providing major advantages over systems dependent on older designs.
Advances in Circuitry and Hardware
Most components in a resistor trimming system employing probe card testing have advanced over the past several decades. Main aspects such as lasers, beam control and accuracy, stage precision and testing systems have seen a dramatic shift in designs and functionality. Automated calibration sequences and alignment found in next generation systems dramatically reduce operator time as well as ensure considerably higher accuracy and consistency by reducing human error. Common advances include:
High performance 4-axis probers.
Servo-controlled Z-velocity.
Automatic XY and θ alignment.
Automated planarization of probe cards.
Quick exchange of probe cards.
The result is a laser resistor trimming system with a much easier user experience providing greater accuracy and higher speeds. PPI Systems offers a complete application lab allowing users to experience the advantages found in a next generation resistor trimming system.
Automation
Probe card testing is most useful for high-volume production with infrequent job changes. Systems are required to process high volumes of substrates while ensuring consistently high yields. RapiTrim probe card-based resistor trimming systems offer a range of modern magazine automation solutions from major suppliers that are SMEMA-compatible. Substrates are exchanged quickly with multiple magazines per handler allowing hours of efficient, uninterrupted operation.
If your requirements are not covered by one of our standard options, PPI can offer custom alternatives, and solutions for your unique needs, from custom fixturing to custom automation.
Up-to-date Software Development
ProSys resistor trimming software offers unmatched ease of use for both operators and process engineers. Machine setup and calibration controls, job process settings, vision and process map, status and diagnostic information are accessible with a single click or tap.  Features include:
A simple operator interface.
Fully automatic run-time calibration which activates when it needs to, ensuring process stability and accuracy.
Real-time system monitoring for process integrity.
Automated file conversion and job creation without operator intervention.
Automatic multi-step and multi-pass processing with performance optimization.
Maintenance tracker which keeps a log of all systems maintenance and history and provides prompts at maintenance intervals.
Full system diagnostics and data logging for enhanced product support and predictive maintenance.
•  Windows 64-bit architecture.
Job creation, process control and results are identical between different machines with alternate specifications, reducing training times and ensuring operator proficiency for all applications including both high and low volumes and mixes. RapiTrim systems undergo current development in hardware and software ensuring systems meet current and future production needs and specifications. RapiTrim systems undergo continuous development in hardware and software, ensuring systems meet current and future production needs and specifications.
PPI Systems is a leading supplier of laser material processing and test systems.  The company provides a broad range of turn-key solutions to the interconnect and electronic component market for via drilling, circuit processing, resistor trimming, and high-precision micro-machining.
PPI
www.ppisystems.com